Tech Trek
Tech Trek is

a week-long science and math summer camp designed to develop rising 8th grade girls' interest, excitement, and self-confidence in science, technology, engineering, and math (STEM).
Each year Nutley Branch contributes
funds, send girls to the camp from and volunteer as workers.
Tech Trek Camp will be in-person July 23 – July 29, 2023 at Stockton University.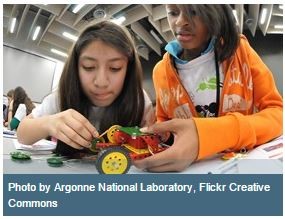 Teentech
A day of hands-on technology workshops for high school girls. Teentech has been a project of AAUW NJ in collaboration with various colleges and universities throughout New Jersey.
 This year, the program will be  held at Essex County College in the Spring of 2023.
National Conference for College Women Student Leaders (NCCWSL)
AAUW's National Conference for College Women Student Leaders (NCCWSL) is where hundreds of young women come to turn a moment into a movement. Each year, hundreds of college women from around the country attend three days of leadership training, inspiration and networking. Each woman enters the conference as a passionate leader and leave it with the skills and confidence to pursue your goals.
NCCWSL has grown rapidly since its founding more than three decades ago, attracting over 10,000 student leaders. In 2019, the last in-person conference brought together 800 attendees representing 48 states and over 300 colleges and universities. The diversity of backgrounds and ideas at NCCWSL is part of what makes it such a transformative experience. The workshops, panels, speakers and activities provide endless opportunities to learn from experts, while peer networking allows you to learn from one another and make lifelong connections.
Nutley Branch sponsors college women to attend this conference.
The 2023 program will be held May 31 – June 3, 2023
at the University of Maryland, College Park.